If you are looking for the perfect pet-friendly paradise to bring your four-legged friend on a little getaway, look no further than Winter Park… otherwise known as Winter BARK! Winter Park has been established as a destination for dog lovers with our dog-friendly culture, off-leash hiking trails, and dog-friendly bars. Canines are welcomed with open arms during all seasons of the year, because Winter Park is a tail-wagging good time!
1. Wake Up With A Puppuccino!
Wake up and spend the morning with your favorite pal & treat your furry friend to a puppuccino! Not sure what a puppuccino is? Head into the Starbucks at Winter Park's base area and find out! The friendly baristas would be happy to create your favorite drink and pastry while getting something special for your pooch. What a treat!
2. Rocky Mountain National Park
Rocky Mountain National Park offers limited dog-friendly areas. While pets are not permitted on the hiking trails, they are allowed in some areas of the park. Leashed pets are welcome to accompany their humans in the parking areas, campgrounds, and picnic areas of Rocky Mountain National Park.  
Neat Feat: If you don't want to leave your dog at home, there are plenty of nearby doggy daycares to drop your pup off for a day of play while you explore the national park!
Local Tip: locals often go after 3pm to just do a drive or quick hike. In the summertime it stays lighter, longer. Go after dinner and watch for wild elk!
Please Note: There are two types of reservations available.
Option 1 will be for Park Access Plus the Bear Lake Road Corridor (from the junction of Trail Ridge Road to the Bear Lake Trailhead), which will include the entire corridor and access to the rest of the park. This reservation period will be from 5 a.m. to 6 p.m.
Option 2 is for Park Access, Does Not Include Bear Lake Road. This permit provides access to all areas of Rocky Mountain National Park, not including destinations along the Bear Lake Road corridor. This reservation period will be from 9 a.m. to 3 p.m. Permits issued using the reservation system will allow park visitors to enter the park within two-hour windows of availability. The reservation system will apply to all areas of the park.
3. Dog-Friendly Hikes in Winter Park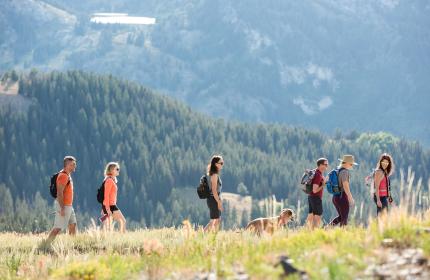 Have an adventure with your pup!  Take a look at our list of 9 Best Hiking Trails For Your Dog in Winter Park. We recommend the Discovery Challenger Trail. This 1.2 mile easy hike is only 131 feet of elevation gain, so it's safest for pups of all ages!  
Local Tip: There are tons of more dog-friendly hiking trails in Winter Park! Don't be afraid to #VentureOut 🙂 But no matter where you hike, be sure to bring a leash, fresh water, and doggie bags.  
4. Winter Park Resort
Winter Park Resort is a great place to have a full day of adventure with your pup! The resort features many dog-friendly things to do like hiking trails, a fenced-in dog park, and restaurants with dog-friendly outdoor seating. Take a look at Winter Park Resort's dog-friendly itinerary for more ideas on how to spend a fun-filled day with your pooch! 
 

5. Get A Pup Pass!
Once you're up at the Winter Park Resort area, get your pal a Winter Park Resort branded pet pass! Although it's not a requirement for your pup to have a pass while on the mountain, it is a fun and special thing to do for your pooch. Also, 100% of proceeds from every pet pass go to Grand County Pet Pals. A cute personalized souvenir for great cause? Count us in!
Local Tip: Dogs are allowed to ride the gondola! Don't be afraid to take them for a spin.
5. Hideaway Park Brewery
Cool off with your pup on the dog-friendly patio at Hideaway Park Brewery after a long day of exploring. This brewery in Winter Park has a rotating selection of beers on tap, so you can always try something different! Hideaway Park Brewery also has live music every Monday evening.
Local Tip: Be sure to bring a water bowl for your pup so you can enjoy a cold one together!   
6. Dining With Your Dog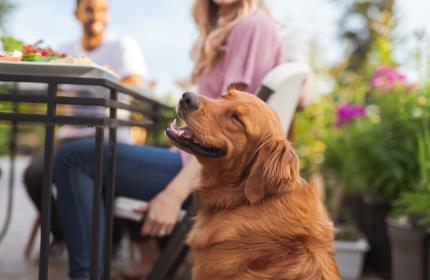 There are a variety of different eateries around Winter Park that are dog-friendly or have patio seating available for your pooch. Our favorite is Doc's Roadhouse.
Doc's Roadhouse has an outdoor patio so you can sit outside while your furry friend is tied up next to you just outside the patio. Enjoy a Colorado bison burger or truffle fries, and maybe give your pal animal a few treats for being such a good dog today.
7. Stay In A Luxe Pet-Friendly Home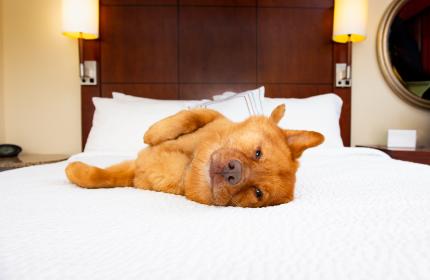 Looking for a pet-friendly home rental for your next trip to Winter Park? Winter Park Lodging Company has a variety of options to suite your romantic getaway or group lodging.  Check out these pet-friendly homes to see where you and fido's next adventure could be!